Buying a Guitar from the USA
Introduction
I've always been intrigued by how cheap things are in the US, especially guitars. On some websites, such as Musician's Friend and Music123, the instruments often sell for less in dollars than they sell for in pounds in the UK. Once the exchange rate is taken into consideration, this equates to a massive saving.
A few years ago, I decided that I'd take the plunge and see just how easy it was to buy a cheap guitar from a US website and have it delivered to Europe. It turned out to be a great experience, but there are a few things which you need to be aware of...
Choosing the Site
The things to consider when choosing a supplier are range, price and shipping restrictions. They obviously need to stock the guitar you want at a competitive price. However, if they don't ship to Europe then you're stuffed! A few years ago I chose Music123 because Musician's Friend did not ship to the UK. Since then things have changed. Musician's Friend bought Music123 and they now have very similar websites and policies. Both of them ship internationally subject to manufacturer's restrictions. They have an indicator on the product description of each item which shows you which countries they can be exported to. For example, Gibson, Fender and Ibanez guitars cannot be shipped outside US or Canada, but BC Rich can be exported to most countries.
There are ways around the shipping restrictions. See below.
Choosing the Guitar
This is obviously down to personal preference, but note that due to postage and import duty, it may not be worth it for cheaper guitars. However, this doesn't apply to the dozens of great cheap guitars which are only available in the States.
The savings are better for higher end instruments. I went for a Gibson Faded Flying V for $599. At the time of purchase, the cheapest you could get these in the UK was £700.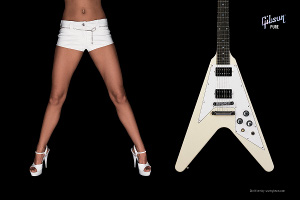 The Buying Experience
The Music123 website is very professional and purchase with my AmEx card was hassle free. I also had great fun tracking the guitar across America and the Atlantic as it was delivered; I made my order at 12:15pm on Wednesday and by 5pm the next day my Flying V had left the warehouse. Even more amazingly, by 8pm on Friday, it was in the UK! It sat at East Midlands Airport over the weekend, but arrived at my office in Manchester at 10am on Monday morning. I was really impressed.
The Costs
The cost of importing my axe was as follows:
Basic Price
| | USD | GBP |
| --- | --- | --- |
| Gibson Flying V | $599.99 | £353.29 |
| shipping | $95.18 | £56.04 |
| total | $695.17 | £409.33 |
Imported Price
| | | |
| --- | --- | --- |
| Import VAT | | £52.27 |
| Duties | | £9.08 |
| Brokerage | | £10.00 |
| Total Cash on Delivery | | £71.35 |
Total cost = £478.53
That's a saving of more that £200 from the UK prices. Note that recently, the UK prices have been falling, but the exchange rate has also been getting better. Do your maths and you could get a great guitar for a great price...
One way around the export restrictions placed on certain guitars is to use an online service such as shipitto.com. These allow your item to be shipped to their US postal address and then forward it on to you. For a fee of course. However, as their shipping rates are pretty reasonable, their fees aren't too bad. You need to work out very carefully whether the saving you will make on the guitar is still worth it when import duty and their cut are taken into account. Check out shipitto.com and get a free quote here:
Conclusion
It's always a risk buying a mail order guitar. Even if you know what you want, the quality of guitars, even those of the same model, may vary. Also, a broken guitar would be a real pain to send back to the US! Remember that there are some great guitar shops in this country, who provide a professional setup and good after sales service.
The advantage is that you know you're getting a brand new, boxed instrument. I've seen guitars in shops which have been almost second hand they've been "tried" so much. While I'd much rather setup a guitar myself than take it to a shop, if you do need to take it to a repairer, with the savings you've made any work may pay for itself.
Talking of setups, I learnt a thing or two about guitar setup from action of my factory-fresh Gibson... it was so high that you could have driven a truck under the strings... but the tone and sustain were amazing. Even though I lowered the action a bit from the factory position, I went round and heightened the action on all of my other guitars to match!
Summary
Pros
Cheaper prices
Great bargains on Music123 or Musician's Friend
Fast shipping
Brand new boxed guitar - you know it's not been sat in the shop for months being molested by grubby hands!
Cons
A broken guitar would be a real pain!
Buying a guitar mail order is always a risk because you can't play it first
Prices in the UK are slowly getting cheaper due to the exchange rate
No free setup or after-sales service
Some manufacturers will not allow their guitars to be shipped internationally (try a brokerage service)