The bits for my new build, which is my 3rd MythTV box, arrived on Saturday. My first box was based on an Asus Pundit barebones chassis and was built ten years ago in 2004. A couple of years later I built a silent PC around a Scythe Ninja cooled Athlon CPU, which I've been using ever since.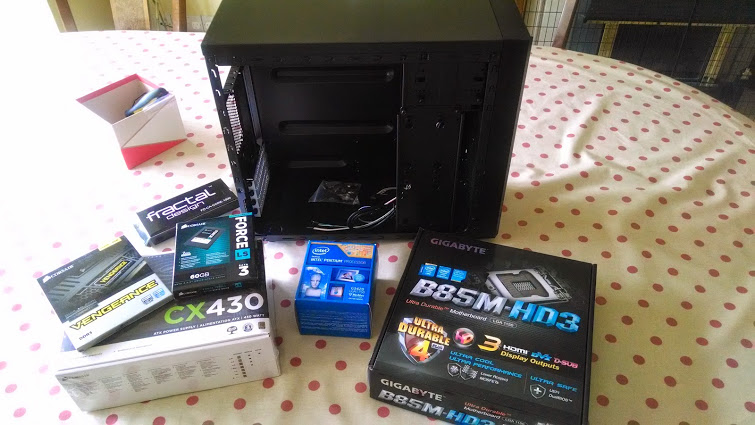 The spec of the new one is posted below. I haven't built a PC in years so it was great fun. Things haven't changed that much and it screwed together very easily. In my view, the case is one of the most important factors when building your own PC. I admit that I did skimp on cost when selecting the Fractal Designs 1000 case, which appeared a bit flimsy in places when I opened the box. However, as I had hoped, the case is a triumph of design over budget and it's very well thought out. It's a small case, but still takes a full size ATX power supply. With a micro-ATX motherboard there's still plenty of space inside. It helps that I didn't bother with an optical drive, so any spare cables can be tucked up into the drive bays (I also saved some cash by not getting a modular PSU).
I intend to just velcro the tiny SSD in place and put the 2 big 3.5″ drives in the vertical bays.
The system powered up first time and into the new UEFI BIOS. Very snazzy. I was dying to move onto the Mythbuntu install but my Saturday night was taken up by a LAN party with my brothers, consisting of plenty of beer, Grid, Modern Warfare and Left 4 Dead. On Sunday night I was distracted by the World Cup final. Oh well, I'm sure I'll get round to it eventually…